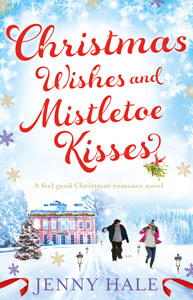 AMAZON.CO.UK
AMAZON.COM
BOOK DESCRIPTION
An uplifting, beautiful story about never letting go of your dreams, the special magic of a family Christmas… and the rush of falling in love under the mistletoe.
Single mother Abbey Fuller loves her family more than anything, and doesn't regret for a moment having had to put her dreams of being an interior designer on hold. But with her son, Max, growing up, when a friend recommends her for a small design job she jumps at the chance. How hard can it be?
Nick Sinclair needs his house decorating in time for his family's Christmas visit – and money is no object. What he doesn't need is distractions – festive or otherwise – from his multi-million dollar business.
When Abbey pulls up to the huge Sinclair mansion, she has a feeling she might be out of her depth. And when she meets the gorgeous, but brooding Nicholas Sinclair, she knows that she's in real trouble…
With the snow falling all around, can Abbey take the chance to make her dreams of being a designer come true? And can she help Nick finally enjoy the magic of Christmas?
Coming Home for Christmas is a beautifully observed story about the importance of family, the magic of Christmas, and falling in love one snowflake at a time.
A beautiful story about the magic of childhood Christmas memories, the strength of family and falling in love when you least expect it.
BOOK REVIEWS